Having a baby on the way can be tough for a lot of women. As the baby bump grows, it's tough to find the right clothes to fit in. Sometimes, a pregnant woman tends to sacrifice being in style for her comfort and the comfort of the baby.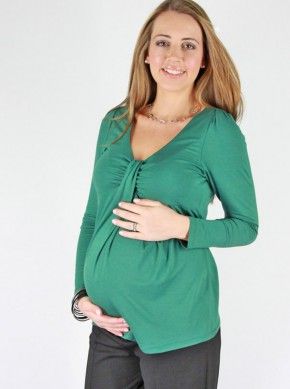 Nowadays, it's easier to look good, be in fashionable and be confident even if you're pregnant. A lot of stores now offer maternity clothes that have great design, and would fit the taste of a lot of women. With a lot of choices to make, it's not difficult to find the right maternity top that would falter you.
Here are some tips and guides to choose the right maternity top.
To look slimmer, wear knitted blouses and t- shirts made of form fitting fabrics.
Wear snuggly tops instead of bulky ones. This would also help to emphasize the other slim parts of your body such as the shoulder, arm or neck.
Take advantage of this time by showing off a little skin. You can wear a V-shaped blouse of shirt to emphasize your cleavage. You can also wear tank tops or sleeveless blouses to show off your arms.
Wear bright colored maternity tops. This does not only make you look good, it would also help to give you good vibes.
You can borrow your husband's or boyfriend's button- up shirt. Not only will it make you feel comfortable, it can also look good on you when you pair it with other accessories or wear it with leggings.
You can minimize your accessories by wearing tops with ruffles or sequins on it.
Wear layered clothes. You can pair your top with a cardigan or a bolero.
You can wear oversized shirt on casual days, so you can be more comfortable.
Invest in clothes made of stretchy materials that will adjust to your body as your tummy gets bigger.
You don't have to spend a lot for new maternity clothes. You can look through your closet to see if you already have tops that can fit you. You can also ask friends or family members, who have been pregnant before, to lend you some of their maternity clothes like long sleeve pregnancy top. Some stores even offer these clothes for a low price just like amoralia maternity.
Who says pregnancy is a hinder to be more stylish? All of you to do is mix and match your clothes and accessories, and you can be stylish and look good at the same time.